The Deep Dive
Transformational Breathwork Facilitator Training
Journey into a deeper understanding of YOURSELF.
Experience personal transformation, clarity, and healing.
Join the Breathwork Facilitator Training
and become part of a community of like-minded caring change-makers! We are LIMITLESS!
Your Journey Begins Jan 21, 2024
3 weeks - Ubud, Bali
Sounds Amazing! let's chat
Journey Begins
Jan 21, 2024
3 weeks in person
(part 1)
5 months Expert Level
Online (part 2, optional)

Do you want to know how to experience a deep inner connection to your heart, soul, body, and to others ?

Are you interested in becoming a BREATHWORK FACILITATOR?

Would you like to wake up every day connected to your true self, inspired to positively change lives - and feeling more fulfilled with how you touch the planet?
Join us for a life-changing journey to mastery - to become the author of your life experience, to step into your greatness and to learn skills of compassionate leadership and transformation. In this one-of-a-kind Facilitator Training, you'll dive deep into Breathing Techniques, Authentic Relating, Ice Baths, Mindset Shifts, and other potent healing tools.

By the end, you'll be confident and ready to begin facilitating this game-changing work to others - or to use what you've learned to transform your own life and other's in new and incredible ways.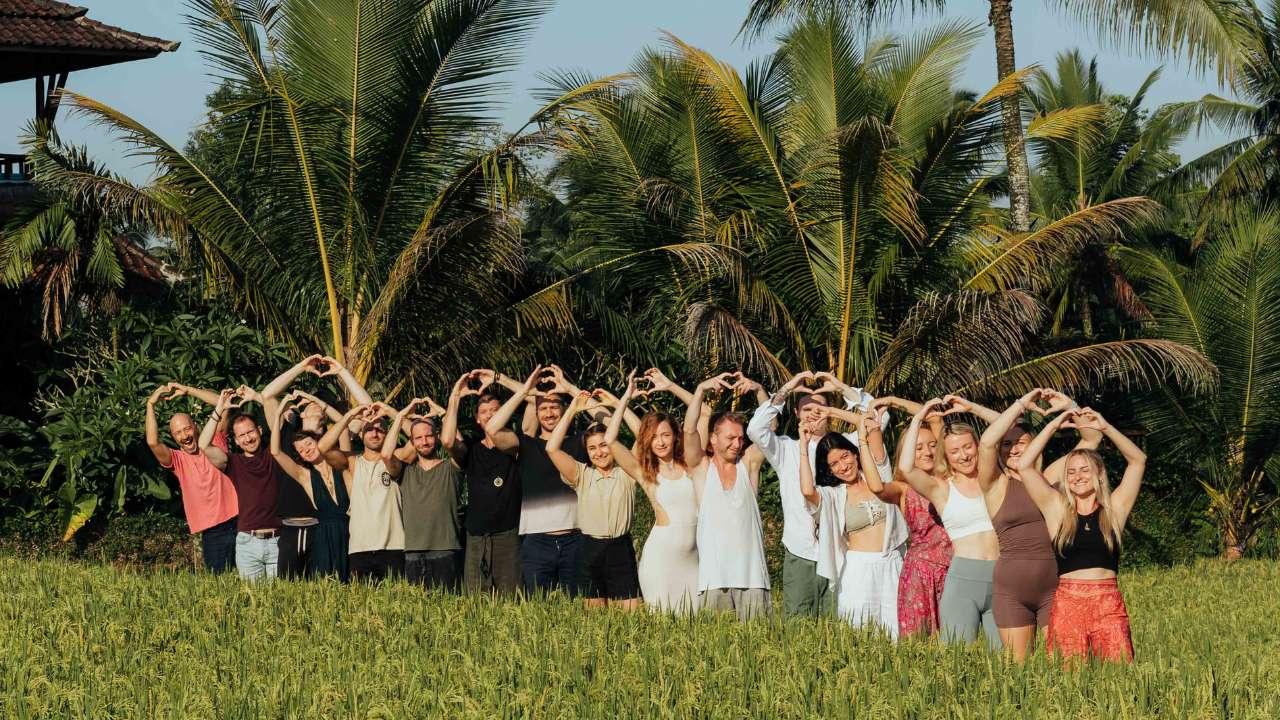 So, what are you Breathing for?
In the last few years, the tools you'll experience in The Deep Dive have become mainstream, and recognised as significant ways to heal and transform.
"Breathwork is the new yoga. Ice Bath is the ultimate self-care ritual. Circling & Authentic Relating is a way to transform every aspect of your relationships."
These fundamental practices will allow you to release traumas, shift limited beliefs and live the life you want to live.
You'll be taught by expert instructors who will share their approaches and inspire you to craft your own style. And you'll become part of a new tribe of amazing humans, fellow breath seekers and learners who will support you every step of the way on this journey - and beyond.
Develop your own practice and feel confident facilitating 1:1 and groups.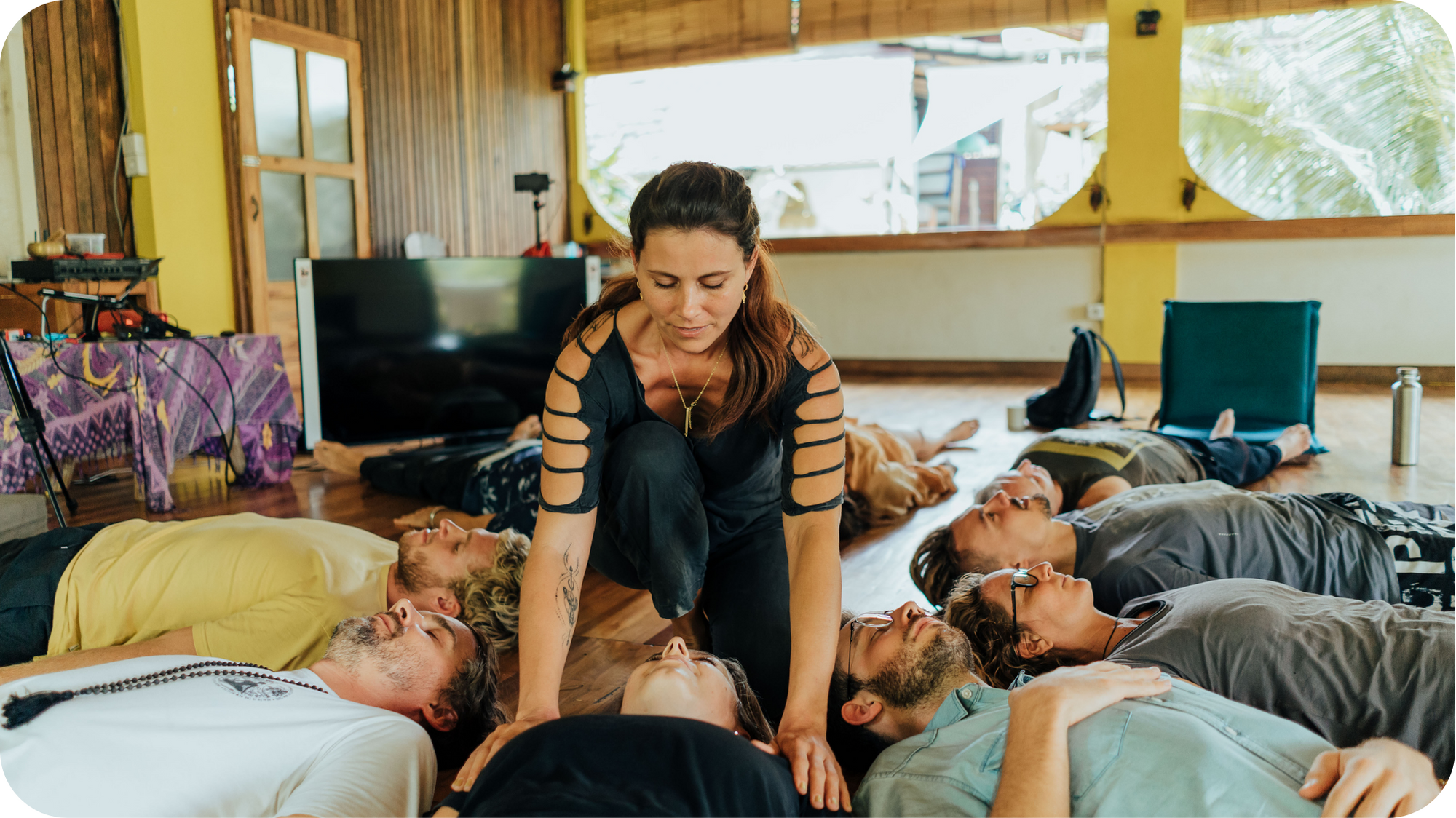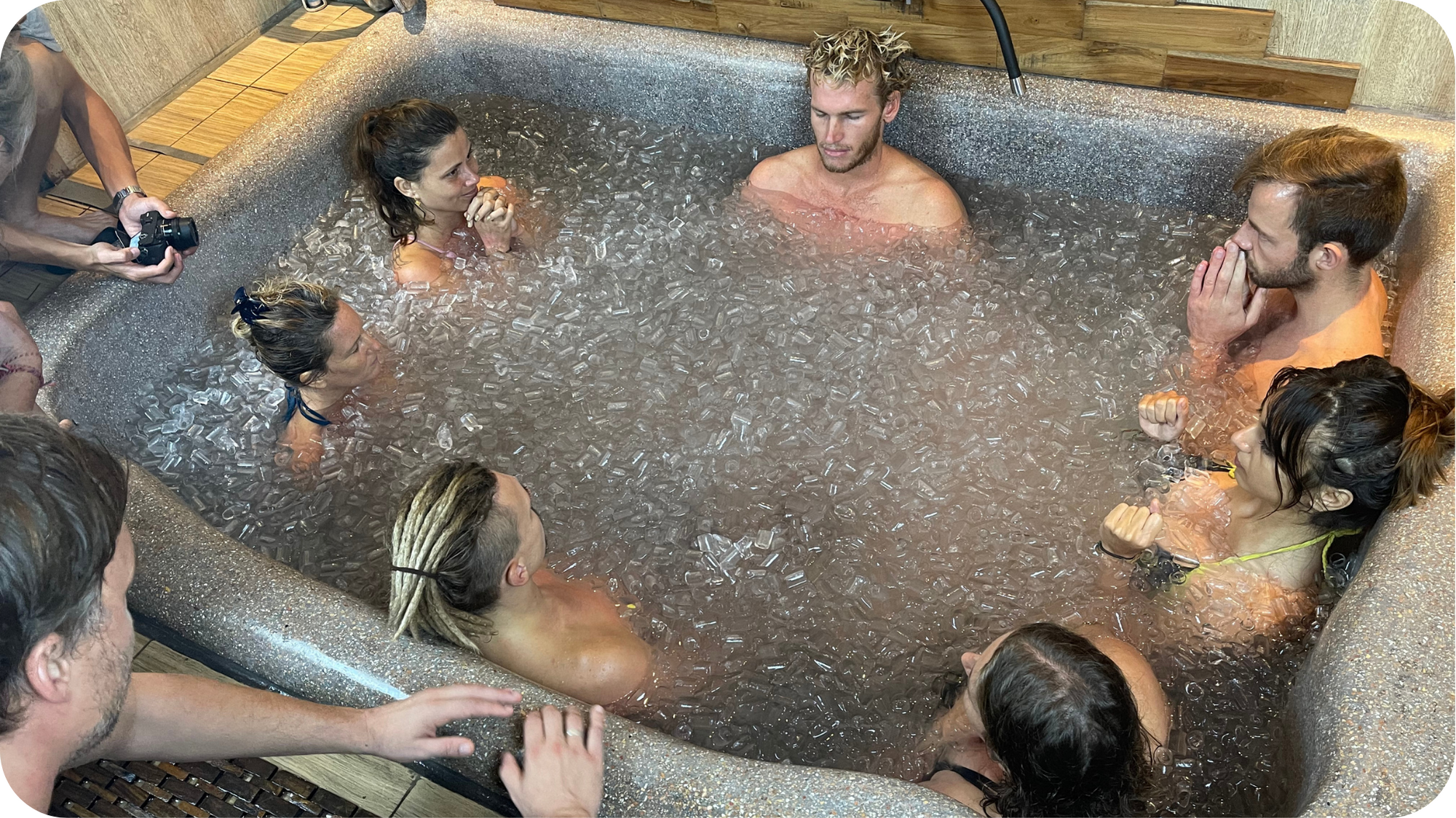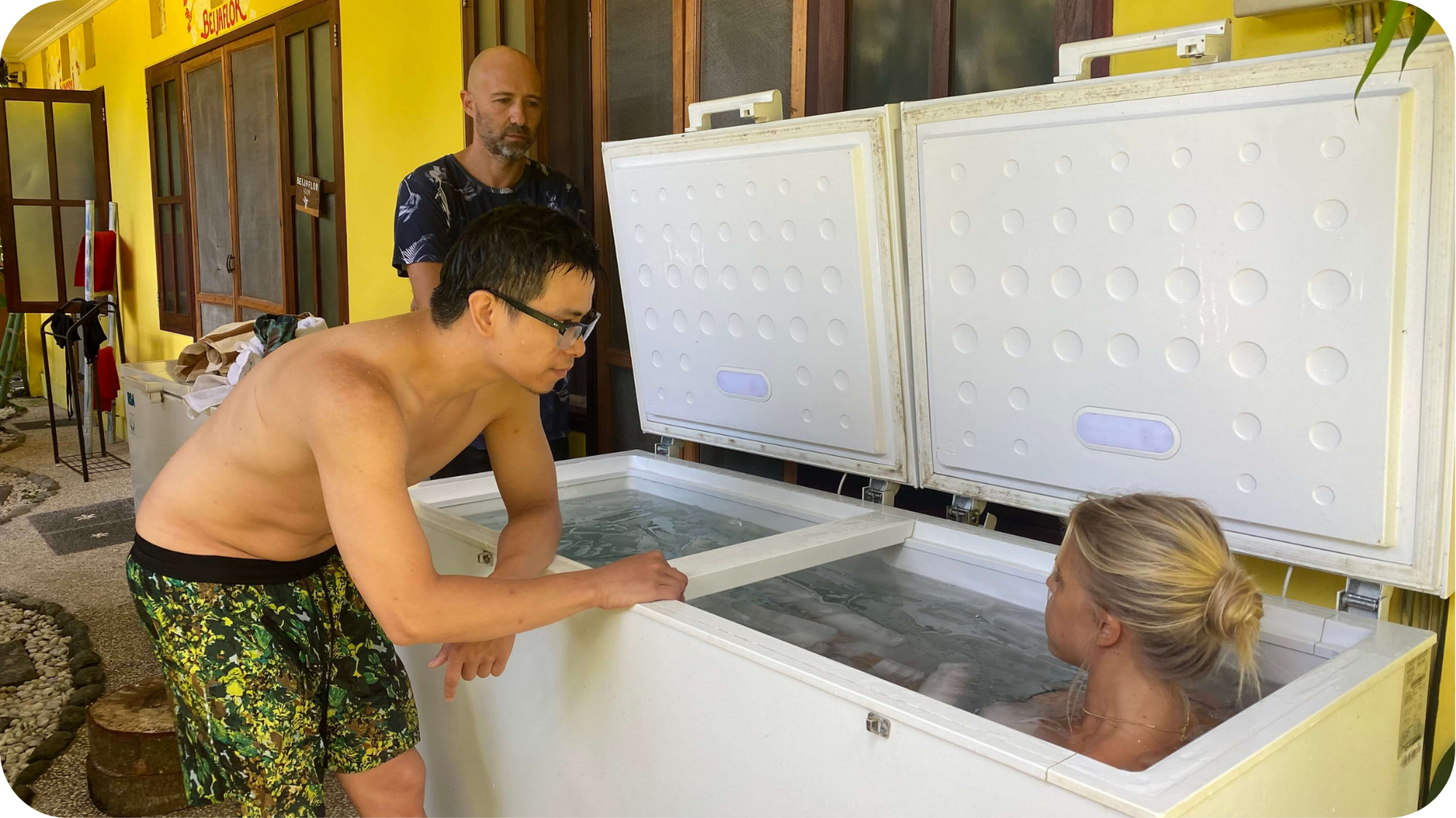 More than just Breathwork, Ice Bath and Authentic Relating, this experience will impact you for life!
Self-transformation, powerful healing experiences, and more clarity around your role in the world.
Deepened knowledge about breathwork - including detailed exploration of the science, physiology and anatomy of the breath. You will experience a variety of breathing techniques, with the intention to find your style, YOUR BREATH.
Greater understanding around ICE BATH, the science behind it and how to use it in a therapeutic or fun way.
How to connect deeply with yourself and others via Circling and Authentic Relating, practices that involve honest and open communication, encouraging vulnerability, trust and empathy.
Learning how to guide transformation for others, and use tools to hold space, lead circles, and facilitate individual and group sessions. Plus you will get invaluable experience in the business side of breathwork.
You will leave confident that you can step into your truth, hold space from the heart, and bring this practice to the world - making a tangible positive impact by being your true self!
You will find a supportive tribe that you will connect with on your shared journey!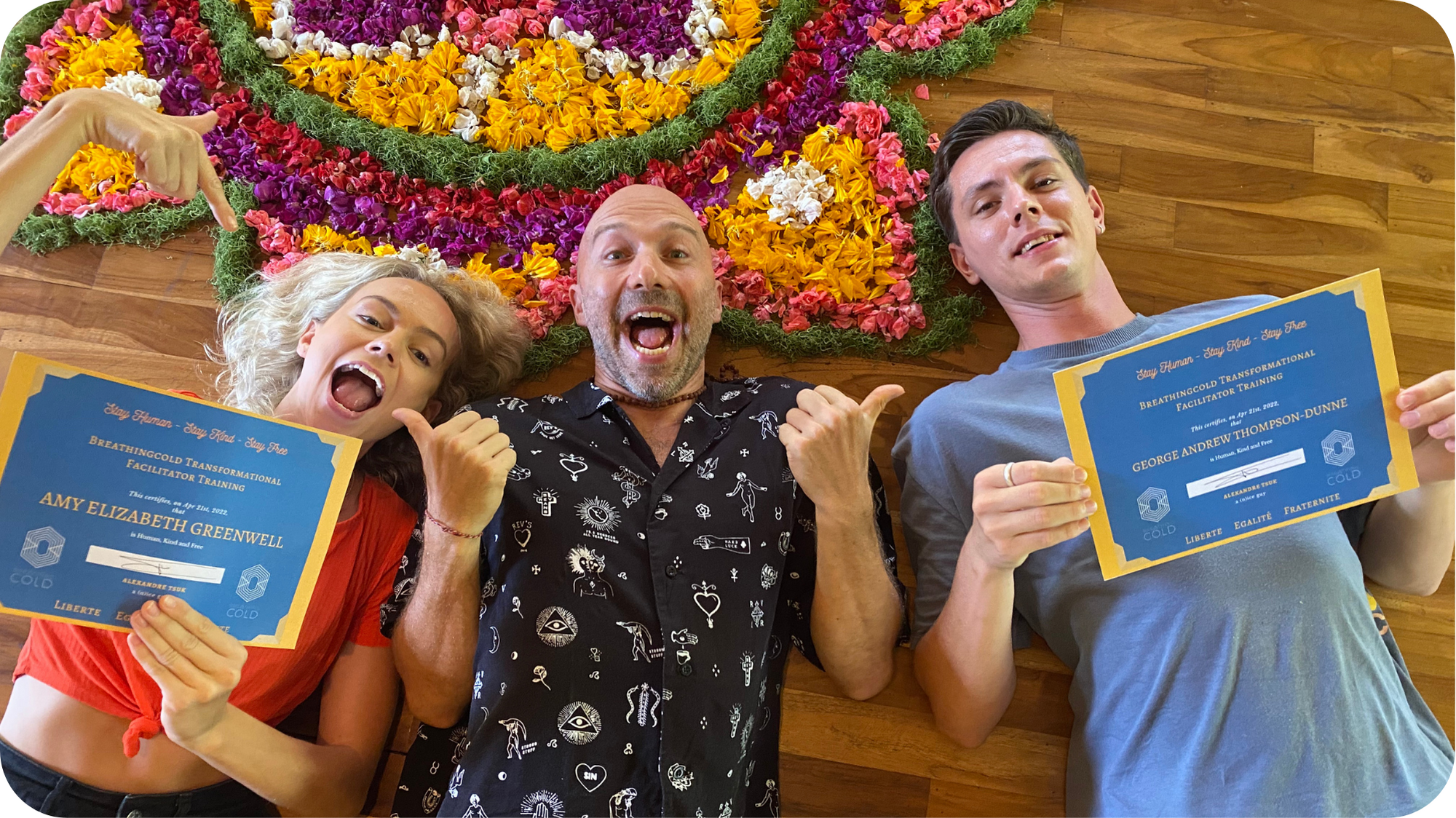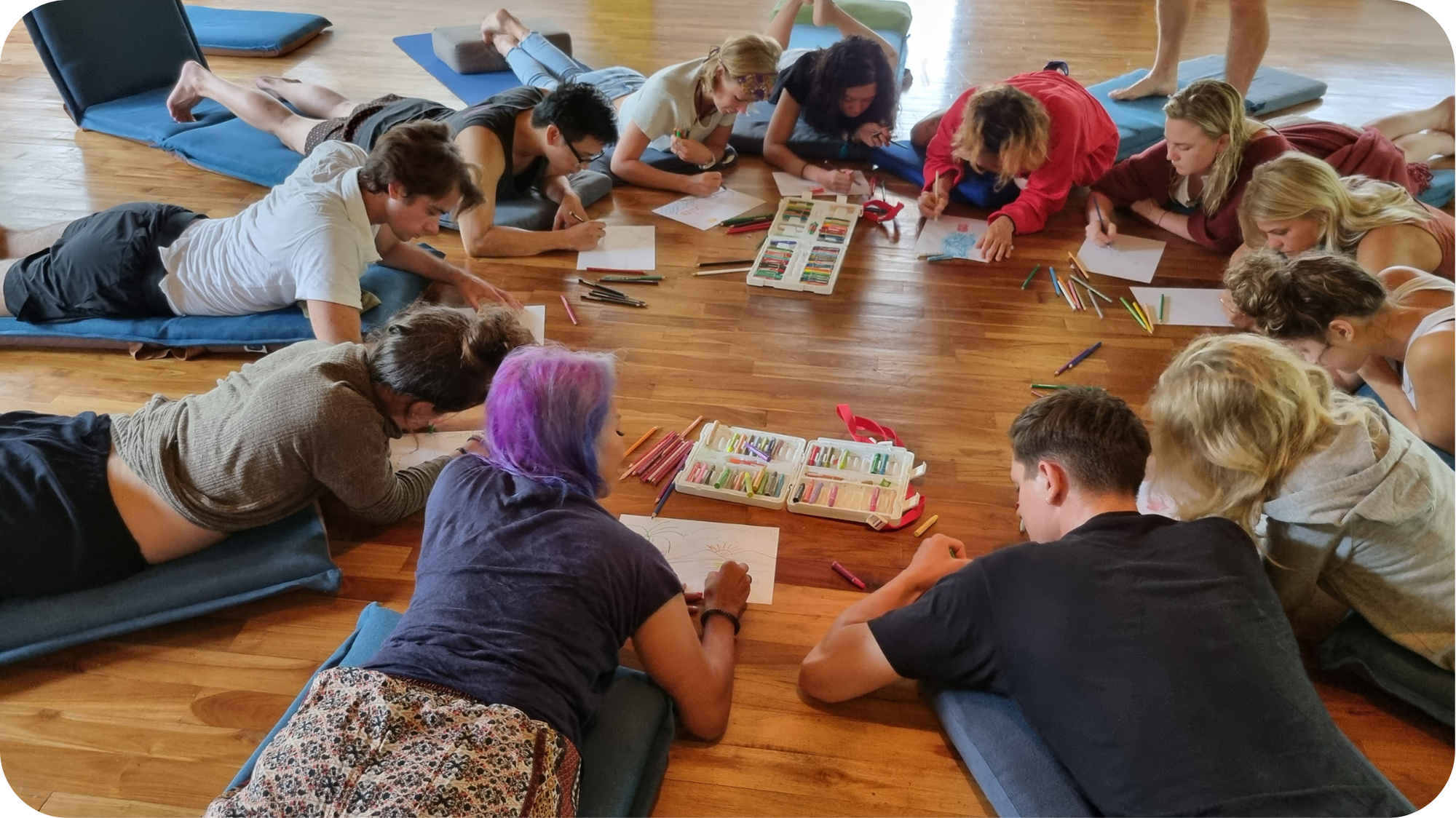 The Deep Dive Facilitator Training is for you if:
You want to become a breathwork facilitator or already are one and wish to improve. Whether you're a beginner or a competent facilitator already, this training will meet you where you are at and take you to a level of mastery that you may be looking for.


You are looking to add amazing "healing tools" to your existing wellness practice. If you're a physical therapist, chiropractor, nurse, personal trainer, yoga teacher, holistic practitioner, or life coach, etc. adding Breathwork, Ice Bath and Authentic Relating to your "tool belt" allows you to do even deeper work for yourself & with your existing clientele / students / patients.


You don't want to be a facilitator - but want to learn powerful tools & techniques for personal growth and healing. Don't want to be a facilitator? Join the first part which is focused on personal transformation! Together we will develop your ability to recognise your strengths to meet your biggest challenges – because that's where your greatest gifts lie. You will positively transform every aspect of your life!

The course will give you the tools and techniques to develop your own practice, and provide you with relevant experience to feel confident facilitating yourself.
THE BREATH
We explore many breathing techniques with their benefits. You will learn the BreathingCold breathing method, which is a blend of conscious connected breath, breath retentions, coherent breathing and visualisation.
You will also be exposed to most breathing modalities to help you dive deeper within yourself & find your practice, your voice, your breath!
We cover the science of the breath, the physical, physiological and emotional aspects so you will leave with clarity and confidence to continue the practice and bring it to the world.
AUTHENTIC RELATING
How to connect with others at a deeper level; an essential part of the training. Once we are connected to ourselves, we can connect with others.
You will learn the incredible
Art of Getting Someone's World!
How to make people feel comfortable and safe. The Art of Facilitating With Open Heart, Integrity & Compassion. You will be invited to lead circles and connecting games.
Breath and Ice are prep-work for this!
THE ICE
Ice Bathing is an ancient practice that has incredible physical, emotional and therapeutic benefits. Athletes are commonly practicing it and it is having huge impact on anyone dealing with chronic stress and inflammation.
You will learn different ways to use ICE BATHING and how to get the most of it.
The Ice will become your best friend or your mentor. You will experience ice bathing at home or in person.
Truly transformational.
ESSENTIAL PRACTICES FOR EVERYDAY LIFE
How to reconnect with yourself, LISTEN to your body and fall in love with yourself again.
I believe that if you fall in love with the breath, then you can be in love every moment of your life.
Holding space for others, inspire them to reconnect with the breath and the cold – to fall in love with simply being alive – is an incredible gift that I wish to share with you.
CREATING HABITS
Strong habits are keys for long lasting lifestyle changes. Breathwork becomes a daily ritual to connect to self and operate from the body and not the mind.
We will explore the science of creating healthy habits.
MINDSET SHIFT
From limited beliefs to growth mindset, seeing challenges as opportunities, focusing on progress instead of results, prioritising learning over seeking approval.
You will learn how to hack your mind and guide people so they become the best version of themselves.
The opportunity to choose love and reject fear presents itself in the smallest moments of life, and specifically, in relationships with those closest to us. Love over fear is a choice.
To live from love not fear is to shift from a goal of protecting our ego and to be courageous enough to open our heart, love and be loved.
THE BUSINESS SIDES OF THINGS
(part 2)
How to price, promote and market yourself.
FINDING YOUR WHY
Your "Why" comes from within you. It is a feeling that compels you to do the work you want to do.
SOCIAL MEDIA / MARKETING
Our expert shares essential tips to start promoting yourself on retreat websites, Instagram, Facebook.
MASTERING YOUR REPUTATION ONLINE
The art of getting more reviews, dealing with negative ones, replying and leveraging them to get bookings.
This is an ALL IN facilitator training! You will be given opportunities to practice holding space, getting hands-on experience offering breathwork to others, and receiving feedback if desired. The group will be here to support you during your teaching journey, and beyond. You will learn all you need to start a successful business and make your mark in the world.
AMAZING TRAINERS
My intention is to bring you only the best mentors and coaches, each one is an expert in their domain.
Many of our hand-selected facilitators are known for creating their own styles.
Enjoy the beauty of experiencing their originality and expertise in your training!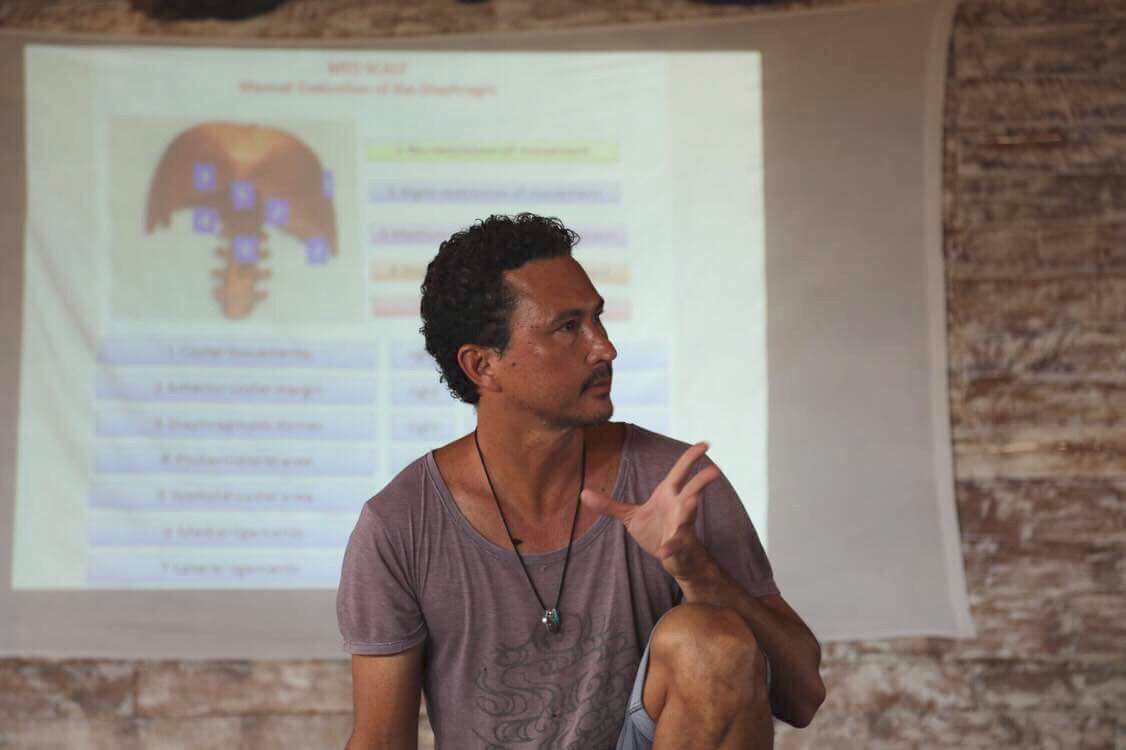 JONATHAN MATAHI LEFEVRE
After a long period of traveling and studying with various shamans and mystics he eventually went back for more academic training and graduated from the Kimura Shiatsu Institute in Tokyo, Japan; the University of San Diego, California; and the British School of Osteopathy, London, UK. He was then more able to blend Western science with Eastern spirituality in his work while exploring the higher common threads linking the various cultures he had been exposed to.
Jono also teaches workshops and classes for various yoga teacher trainings around the globe mainly focusing on anatomy, subtle bodies, fascia release techniques, meditation and Theravadan philosophy.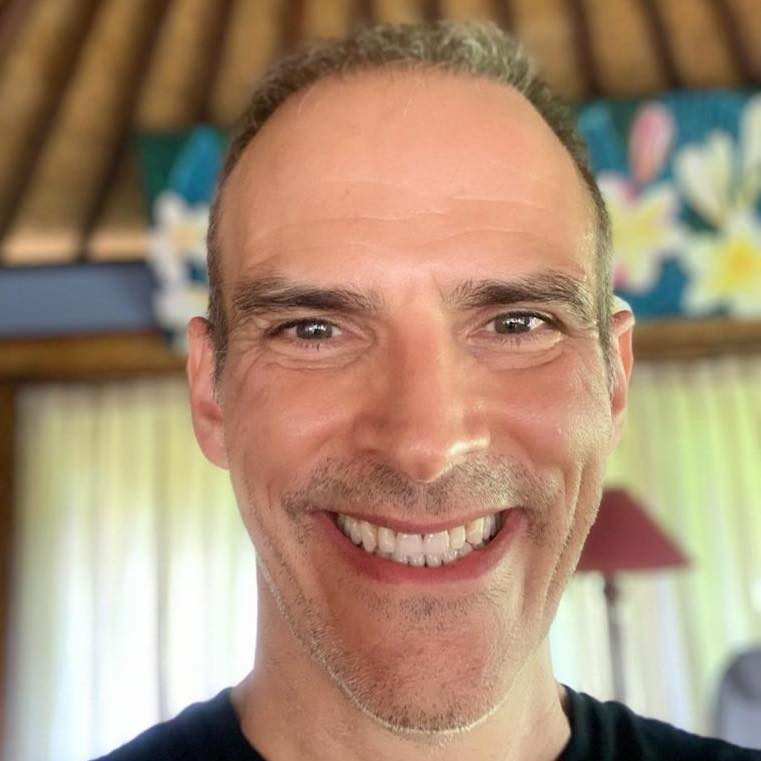 PHILL HUNT
Phill is driven by a desire to empower people to reach deep within and connect to their true self. Through more than three decades of running a private health centre in the UK, based on osteopathic medicine, Phill has studied and further graduated in Acupuncture, Homeopathy, Natural Nutrition and Psychosynthesis Psychology (MA).
Through the amalgamation of a multitude of mind and body disciplines, he has developed Insight Osteopathy.
RACHEL ELLERY
Her mantra "educating and moving the world one body at a time" stems from over 26 years of hands-on experience and 17 years of teaching functional anatomy, bodywork techniques and movement.
Rachel also teaches bespoke anatomy workshops, "Discover the magic that lays beneath the skin" in Bali, UK, Portugal, Laos and Australia. She combines her extensive knowledge of sports therapy, Osteopathy, Pilates, Garuda, yoga and experience into a unique interactive functional anatomy and movement class, that is both engaging and fun.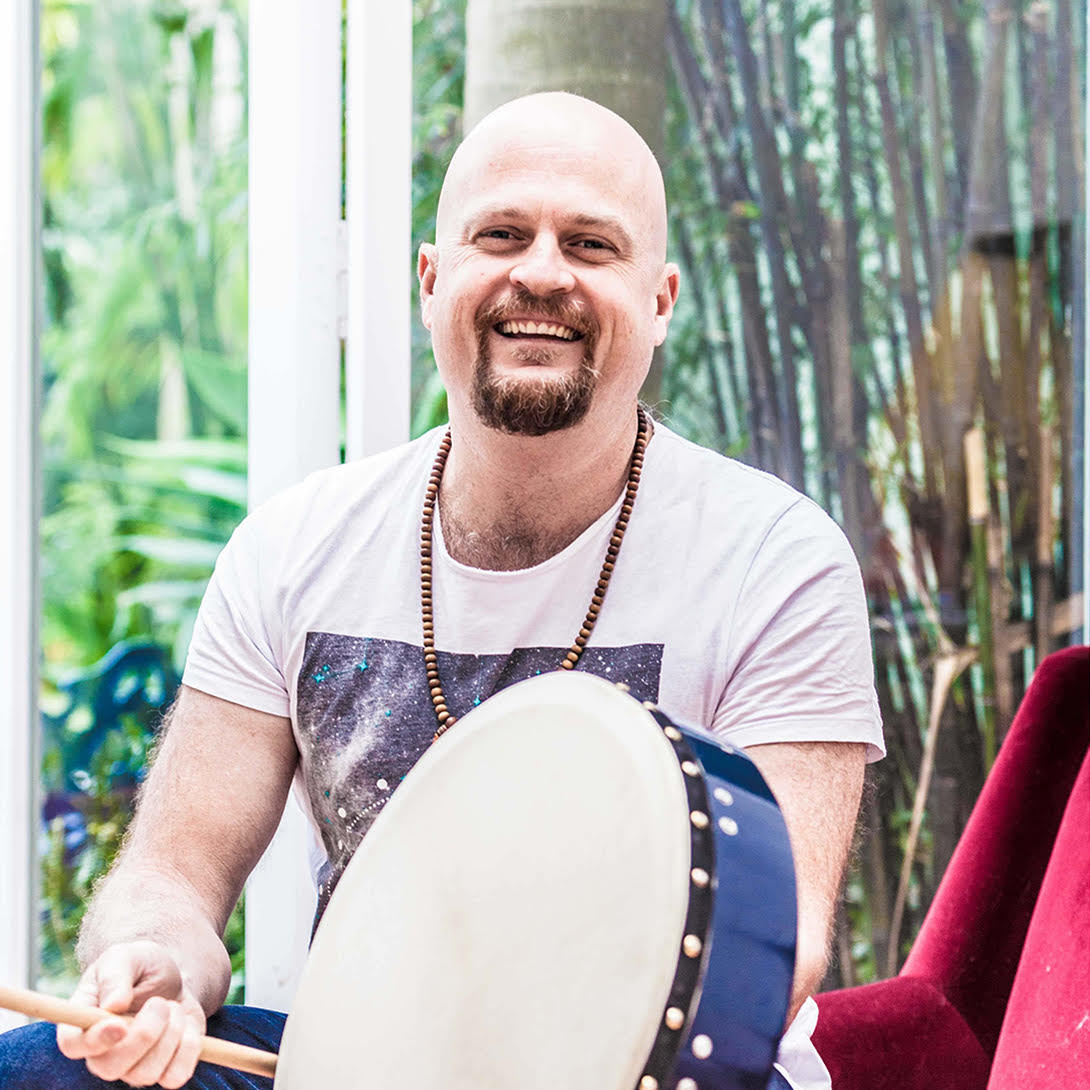 SUNTARA
Suntara is one of the worlds leading Sound Healers and Rebirthing Breathworkers.
Suntara means "Bringing Light to the Earth" and that is his soul intention with his Music and Breathwork.
With his unique and powerful voice and a variety of instruments such as Handpan, Didgeridoo, Flutes and more, the sound vibrations that Suntara channels penetrate deep, moving and shifting energy leaving the audience feeling light, clear and deeply relaxed. Suntara studied Rebirthing with the founder Leonard Orr from 2005 to 2009 and is passionate about the healing power of Breathwork and Sound Healing together.
Hi, I'm Alex Tsuk - your guide on this transformational journey.
Born in France, I now call Ubud, Bali, my home.

I'm a n(ice) guy and a friend-maker who loves making a difference in people's lives.
My goal is to empower participants in the BreathingCold Facilitator Training to heal themselves with simple, safe, and free tools and techniques.
After using these same tools and techniques to help myself deal with depression, I discovered my personal mission: to positively impact the lives of others by enabling them to live their life to its fullest potential.
When we change our relation to our breath, we change our relation with ourselves. I believe that if we change our relation to ourselves, it allows us to step up in the world, have better relations with others, and with Mother Earth.
As part of this commitment to helping people and the world around us, I founded BGreener, a community of 200+ business change-makers in Indonesia and RefillMyBottle, an app listing where people can refill their water bottle (sparing the earth of plastic waste).
I look forward to guiding you in powerful heartfulness practices like breath work, ice baths, and authentic relating as you reconnect with yourself, find your truth, your voice, and YOUR BREATH!
STUNNING!
Compare to no other training. Very real and therefore very efficient.
Alex has a gift to bring a group to its optimum and to transmit to the participant how to do it. In this training not only do you learn a lot about Breath / Cold / Mental Gymnastic, but you also enter deep in the realm of how to get somebody else's world which makes a huge difference if your goal is to share and transmit, interact. Last but bot least, you do not only sign here for a training but also for the support of a whole group/network during and after the training. ~Guy
THE BEST TRAINING!
This was by far the best training I have ever taken. I learned so much from different breathing techniques, science behind the breath, how to hold space, authentic relating and so much more. Alex was so good at having all the information ready for us at our fingertips I can go back anytime and rewatch or reread the material covered. It's really amazing how in tune Alex is with all his students and is able to provide for us exactly what we need. I loved the connection and community that he has created and continues to build. I feel so honoured to have been taught by Alex and have this life changing experience. If you are wanting to facilitate or learn more about the breath wait no longer. I highly recommend this training program you won't be disappointed. Just do it! ~Valery
MANAGE MY ANXIETY
My intention when joining the BreathingCold teacher training was to be able to connect to my breath properly. I always knew it was powerful but was always resisting breathwork for some reason. I knew that Alex's teaching was helping with confidence and would help me become a better teacher. I really wanted to work on my teaching abilities. I'm going through a life transition right now. So many of the tools that I learned were able to help me understand how to deal with anxiety, stress, emotions that are coming up. The breath helps me control my nervous system and manage my anxiety. I learned how to connect to my breath, release stress and trauma. When I am teaching and feel nervous, I know I can just breathe, be authentic. That was a big takeaway. I love the amazing community that we are building. Just Do it! Alex is amazing. And he's so humble, so authentic. The way he teaches, you feel at home straight away and he is present. There's nothing more powerful than being able to share this modality with the world and really be able to connect to that part of yourself. So, I would 100 percent say, "Do it!". ~Jasmine
HIGHLY RECOMMENDED!
"Become friend with the cold and reconnect with your breath. If you wanna take your wellness to the next level and change your mental, physical, emotional and energetical conditions, that's the place to go. Highly recommended!" ~Flo
AMAZING!
I highly recommend this training to anyone who wants to go on a journey of self-discovery, explore their triggers, work through past traumas and become more attuned to their emotions. It's not limited to breathwork; I have gained a huge amount of knowledge and skills that I can now apply in my daily life. I am grateful to Alex and all the other speakers who contributed to this transformative experience. - Sindy
THANK YOU ALEX FOR SHOWING ME THE WAY!
Your guidance has showed me a new way to live through the breath. Doors have opened that I did not even know were there thanks to you. I am truly grateful today! ~Gianni N.
RELEASED MAJOR BLOCKS
I had a major breakthrough during the BreathingCold teacher training. I realized I really want to focus on myself and released major blocks. I recommend this training to anyone as you will experience this breakthrough process – the process is exciting, fun and dynamic. We built a community. The Ice Bath gives you the energy to face your fears and focus on your objectives. Thank you, Alex! ~Paola
THE ART OF HOLDING THE SPACE
I am very happy and grateful. My intention was to deepen my knowledge in breathing because I've been organising ice baths for some time now and I realize that I could not face and reply to all questions from the participants. I wanted to learn more breathing techniques.
I was the first one to hit a major breakthrough in the group. We did some very intense breathwork in the first week. Deep conscious and connective breathwork and I ended up being very emotional and realizing many things about my past, current and future, mindset and feelings.
~Lisa
THIS COURSE CHANGED MY LIFE!
I am so grateful to you Alex to find my inner power, my inner essence, my beauty, strength and self love! You are the first coach I had who was vulnerable, 100 percent human, unique with a huge heart. This course will not only help you to become a coach, but find the way back to yourself. Forever grateful! x ~Katarina
A DIFFERENT LEVEL OF UNDERSTANDING
I discovered Alex via a video that he posted where he was guiding breathwork by his pool. I always struggled with meditation and I loved Alex straight forward approach. I followed the guidance and immediately felt the effect in my body. After one week, I was really amazed, I had incredible sensations instantly. I managed to calm my mind and managed to calm down the buzzing in my head! I have now more confidence to teach breathwork and create my own style. It's a different level of understanding. It helped me a lot once I understood all the science behind the method. For anyone considering joining, be open minded and confident. Alex teaching is serious but don't take it too seriously. It's straight-forward. His approach is very down-to-earth. ~Stefan
JUST DO IT!
I recently completed the 3 week breathwork and ice bath facilitator training with Alex and was blown away by the experience. He really cares about the modalities he teaches and in sharing his knowledge. I learned so much, healed past traumas and reconnected with my breath in a new way. If you're thinking of doing it, just dive in, you won't regret it! Steve
HELP TO FIND YOUR OWN VOICE!
My intention was to grow a deeper connection with my own breath, learn how to become a better facilitator and space holder. I take away many tools that I can use in my daily life, I feel more confident in myself and have a deeper connection with my own breath – I understand how breath can release traumas and how we can become a better version of ourselves. If you are thinking about joining, go for it because Alex is amazing. He has a pure heart and intention. He really helps you reach your highest potential. He lives everything he teaches. The environment feels safe to allow yourself to expand. Helping you find your own voice. ~Kim
GO OUT OF MY COMFORT ZONE
I joined the teacher training to meet my fears, face them and overcome them. I wanted to go out of my comfort zone and learn different breathing techniques. I am on a journey to heal myself and felt supported by Alex. The biggest challenge was share my feelings and emotions with everybody. I learned a lot and I have now more awareness of my body. The ice bath was new to me, it was a challenge, but I did great. It's all about how we deal with stress in life. We create our own stress, but then once we know how to deal with it, it is liberating. I do the breathing now every morning, I love my new routine keep great memories of the tribe and Alex. If you are hesitating, stop! It's worth going. No doubt, just do it! ~Ieva
LOVED, LOVED, LOVED THE COURSE!
Can't remember a time where I had so much fun, learned so much & had so much deep authentic bonding all at once. Great speakers, great experiences & what a beautiful tribe. Alex you out did yourself. I commend your dedication & hard work & the loyalty & purpose you continue to bring to all of us! ~Blu
CLARITY & SUCCESS
"This is not a retreat, it's a proceed. Alex facilitates the transformational process of finding the very best of yourself, stepping into the uncomfortable and thriving. I arrived on the first day feeling unsure about life and my path. At the end, I truly felt a deep shift in myself, one of clarity and success." ~Nathen
PART 1
THE DEEP DIVE
Facilitator Training, part 1
A space to reconnect to your true self. 3 weeks, in person in Bali.
Monday to Thursday, 8am to 6pm
Saturday & Sunday AM: practice facilitating in groups
Receive incredible amount of knowledge on The Breath, Ice Bath and Authentic Relating.
Constant support from Alex.
Daily structure: masterclass, Breathwork session, Circling, Authentic Relating.
Guidance on integration.
The course is designed to help you build your confidence and knowledge - and bring change in the world.
Join a true community of caring facilitators supporting one another on their journey.
Delicious vegan lunches and snacks. Unlimited coconuts!
The day starts and ends with movement and music.
PART 2
EXPERT LEVEL
Facilitator Training, part 2
Tailored to your needs, bringing the right level of support and challenge.
Experience incredible support from the community to build your business.
5 months - Online
Weekly group session to help you bring your practice to the world.
Half of each session is focused on practice and half on expansion of the knowledge with experts.
Monthly 1:1 call with me to help you improve your facilitation.
You will be a invited to facilitate 40 sessions in order to receive your certification (over 2 years).
Bi-monthly emotional circle led by a student to help you build emotional resilience.
Budy system to motivate you and keep you accountable.
Get started with your branding, website and social media.
Books, podcasts, resources to support your expansion.
"There is no more profitable investment than investing in yourself...
It is the true way to improve yourself to be the best version of you and lets you be able to best serve those around you."
― Roy T. Bennett, The Light in the Heart
PART 1 - The Deep Dive

3 Weeks Deep Dive, One-time Payment $2880 USD
Early Bird - Book before 31 Oct 2023, $2680 USD

500 USD non-refundable deposit required to confirm attendance.
Full payment required 3 weeks prior to the training (non refundable).
Accommodation not included.
21 Jan to Feb 9
PART 2 - Expert Level

5 months training, One-time Payment $2880 USD

You can decide at the end of part 1 if you wish to enroll for part 2.
Specials & Considerations
Learn to teach with a friend: 10% off discount on normal price if you join with a friend (not a participant already registered).
5% discount if you pay 100% upfront at sign-up.
If you are keen to join but you are not in a financial position to pay right now for this course, worry not and get in touch - we will work a payment plan out. I believe everyone who needs this work and/or wish to bring it to the world, should have access to it.
Full scholarship available for 1 person actively working with refugees or prisoners.
Enrolment is limited!
Take advantage of Early Bird pricing and secure your spot now.
Why this Training, Right Now?
It almost goes without saying that the last two years have years like no other in our lifetimes. So many people sick, so much loss, so many who have lost direction.
The time for healing from this trauma is now. The time to reclaim our lives, be empowered with our health, and make a tangible positive impact by helping others do the same is now.
Now more than ever, the world needs us at our best.
Now more than ever, our community needs our help.
Now more than ever, we need to Breathe.
Are you ready to undertake powerful healing experiences, self-transformation, and personal clarity on a unique teacher training that will change your life - and the lives of others - in a profound way?
Join us offline in Bali or online from wherever you are for the Breathing Cold Teacher Training and become the embodiment of your limitless potential.
The world is waiting for you. Will you answer the call?
ABOUT BREATHING COLD
You will learn powerful breathing techniques, how to become friend with the cold and find a shortcut to your deeper self.
Become LIMITLESS!