 An essential 11 WEEK ONLINE Breathwork Course
Are you ready to take control over your life?
Do you feel overwhelmed at times and want to experience a deep inner connection to your heart, soul, body?
This breathwork course is a powerful journey into a deeper understanding of the breath and how taking control of something as simple as your breathing can help you in all aspects of your life.
Everything you need is right under your nose!
Experience amazing tools to improve your health, emotional resilience, fitness and so much more.
Join The Breathingcold Essential Online Breathwork Training And Become LIMITLESS!
Breathwork is an incredible tool to bypass the mind and access the true self, not the wounded self, not the defensive self.
My

intention

with this course is :
To assist YOU in re-establishing a connection with your inner self. For those who choose to place their trust in me, I will guide you on an invigorating and deeply transformative 11-week journey. While it may appear that you are enrolling in a BREATH course, it is, in fact, a LISTENING course—an immersive exploration of tuning into your body.
Through this program, I share practical tools and techniques that will enable you to live your life fully. Like one of my teachers say: "I'm not afraid to die, I'm afraid not to live.
Knowledge is power. I hope this course helps you liberate yourself.
Breathe And Access The Swiss Army Knife Of Life.
When we bring ease in the body, when the breath get to move freely in the body, we improve the quality of our life!
Complete the 11 week Online Course
Fall in love with the Breath, reconnect with yourself, build a daily practice using all the tools and techniques shared in the course.
Join the FACEBOOK Community
Share your story with strangers, become friends with them, feel part of a tribe of caring humans.
Keep track of your transformation
Witness the changes you. Journal about it and celebrate yourself. You are the one you had been waiting for.
The
Breathwork

Course is for you if:
You deal with a lot of stress in your life
You struggle to focus and tend to procrastinate
You can't make clear decisions
You tend to self-doubt yourself and feel depressed at time
You have low energy that impacts your capability to remain motivated
You have trouble sleeping
You have often negative thoughts about yourself
You are curious to explore the magic of the breath and what it can do for you
You are looking for a lot more in your life or a change perhaps to your lifestyle, attitude or relationships?
Powerful HEALING modalities.
Greater APPRECIATION of your subconscious beliefs and wounds and how to work with them consciously for self or others.
You will leave CONFIDENT that you can make tangible changes in your life.
Deep understanding of the science of breathing, experiencing many breathing techniques to support you throughout the day.
You get to join for life a tribe of like minded caring humans to support you on your journey.
You will leave reconnected to yourself and others with incredible hacks to better your life.
ABOUT THE FACILITATOR
"I love making a difference in people's lives" Alex
As a professional in the field of breathwork, my primary focus has been on conducting in-person workshops and facilitating transformational experiences. Over the years, I have had the privilege of hosting more than 6,000 participants and mentoring nearly 400 facilitators who now conduct sessions globally.
My primary objective with the BreathingCold Online Training is to empower individuals by providing them with accessible, safe, and cost-effective tools and techniques for self-healing. After personally utilizing these methods to overcome depression, I realized my ultimate mission: to create a positive impact on others by empowering them to reach their maximum potential in life.
I firmly believe that when we alter our relationship with our breath, we transform our relationship with ourselves. This change, in turn, allows us to engage more effectively with others and the environment, fostering a more harmonious relationship with the world.
In alignment with my commitment to contributing positively to people and the environment, I founded BGreener, a network of over 200 change-making businesses in Indonesia; RefillMyBottle, a mobile application that enables users to locate water refill stations in order to reduce plastic waste; and The Bali Pledge, a sustainable tourism initiative supported by the local tourism industry.
I am eager to guide you through powerful heartfulness practices, such as breathwork, ice baths, and authentic relating, as you embark on a journey of self-discovery, reestablish your connection with your inner self, and embrace your truth, voice, and breath.
All we need is tap in our shared super powers: Authenticity & Vulnerability.


Let's stay humans.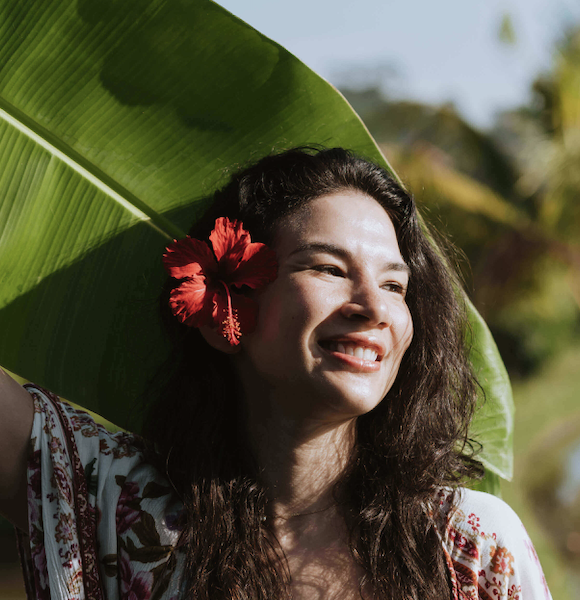 ---
"Alex created a very well made course with so much knowledge and he covers much of what he taught in person, and he makes it easy to watch, listen and incorporate. The way he shows up so authentically himself makes it not just relatable but entertaining and fun to learn. The weekly quotes and book recommendations are very motivating and resourceful. This course isn't just about breathing techniques and science, it's also about showing up for yourself, loving yourself, improving your mindset, discovering yourself deeper so you can live your most true and authentic way, which will help you connect to yourself more, and it ripples into connecting with others deeply too.
I highly recommend Alex's teachings, and I'm very grateful for the experiences. Sign up now!!!"
---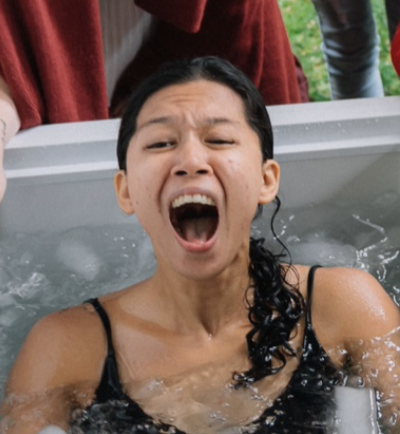 ---
"
I was skeptical about taking an online course for something as experiential as breathwork, but I was pleasantly surprised by how immersive and engaging the course was.
Alex was very supportive, and even if I had questions while taking the course, the BreathingCold community was always there to motivate and guide me in my own journey.
This course helped me deepen my own practice and support others in theirs. I felt like I was able to learn just as much as I would have in an in-person training."
---
THE ONLINE BREATHWORK COURSE
Includes...
12 x 1-hour sessions
Divided between engaging lectures on the magic of the breath and practical breathing techniques. You will receive an email once a week which includes step by step guidance, fun challenges and surprises to keep it fun!
Access to the private community
Developing awareness and a personal practice is fundamental and doing it with the support of a caring community of like minded humans is truly wonderful.
Live Q&A and Breathing sessions
Regular sessions to experience the breath with Alex, ask questions, welcome amazing guests facilitators, experience different breathing techniques and integration tools.
30% is going back to the community in the form of Free sessions for prisoners, social workers and children.
If you are keen to join but you are not in a financial position to pay right now for this course, worry not and get in touch - we will work a payment plan out. I believe everyone who needs this work, should have access to it.
Full scholarship for the Facilitator Training available for social workers supporting refugees, children or prisoners.
Use the Breath to connect to your environment. General introduction why the Breath matters. Practical tools and method to shift limited beliefs.
We explore the different types of transformative breath techniques. Breathing more or breathing less, that is the question. Practice: Box breathing.
What Are You Breathing For?
We need to feel to heal. Suppressed trauma, emotions and feelings create disease. the quality of our breath affects the quality of our life.
In the last few years, the tools you will experience in this course have become mainstream, and recognised as significant ways to heal and transform.
Considering the breath is the single most fundamental and important aspect needed as a human being.
Practicing Breathwork can result in the most transformational and profound experience.
You are in control and you can change your life.
Do these Statements resonate with you?
You've been hearing about the power of breathwork and want to try it yourself.
You want to shift old beliefs and move toward love and joy.
You feel overwhelmed and overstimulated and what you are doing at the moment isn't helping.
You want to reduce the consequences of chronic pain or help cope with physical discomfort.
You want to control your nervous system, sleep better, improve your digestion.
You feel stuck and unable to move forward and make important decisions in your life.
More than just Breathwork, this COURSE will impact you for life!
Deepened knowledge about breathwork
Including detailed exploration of the science, physiology and anatomy of the breath. You will experience a variety of breathing techniques, with the intention to find YOUR BREATH.
How to connect deeply with yourself
Includes a greater appreciation of your subconscious beliefs, personal and collective wounds and traumas - and how to heal them consciously.
Self-transformation, powerful healing
You will leave confident that you can step into your truth - making a tangible positive impact by being your true self!
---
---
"I feel incredibly lucky to have participated in Alex's breathwork workshop twice before. While I gained so much insight from each session, I always struggled to retain all the information and concepts in a structured way. That's why I was excited to enroll in Alex's online course on breathwork, and it was the perfect answer to my little issue.
The online course allowed me to take my time and fully absorb the material, which made it easier to understand what I can explore and achieve through breathwork. I love how I can revisit specific topics whenever I need to, which has helped me elaborate further on my own path and my own workshops as a facilitator.
---
---
Alex has put together a beautiful collection of knowledge and energy sharing, and I am so grateful for all that I have learned. Since starting the course two months ago, I keep coming back to it whenever I need to ground myself and get back to some key and elementary topics. I know that this course will continue to infuse my practice as I keep rediscovering hidden aspects that I didn't fully grasp the first time around.
I'm really looking forward to taking Alex's course on ice plunging and authentic relating. Overall, I can't recommend this online course on breathwork enough. If you're questioning whether or not to take it, just do it! You never know what you might discover, and it could be the perfect way to deepen your understanding of breathwork and achieve your goals.
Alex's style is very unique. he is sharing from a very heartfull position. Although he has clearly done the work on the scientific aspect of things (even if there is always so much to understand there), he opens up the topics to other levels in a beautifull and open way. If find that it helps making the course usefull in my everyday life. "
---
Frequently Asked Questions
---
A lifetime! After enrolling, you have unlimited access to this course.
You can pay using Stripe or bank transfer.
Access our private Facebook group and meet other breathworkers.
We'll send you weekly content, assignment and extra learning materials.