Know yourself
BreathingCold ESSENTIAL EXPERIENCE
Journey into a deeper understanding of YOURSELF. Experience personal transformation, clarity, and healing. Breath works, Ice Bath works. Become LIMITLESS!
Sounds Amazing! Tell Me More
Do you want to know how to experience a deep inner connection to your heart, soul, body, and to others ?
Join us for a once in a life-time journey within yourself - become the author of your life experience, step into your greatness and live the life you want to live.
Breathwork is the new yoga. Authentic Relating is a way to transform every aspect of your relationships.
Ice Bath is the ultimate self-care ritual. In the last few years these practices have become mainstream, and recognized as significant tools for healing and transformation.
You'll become part of a new tribe of amazing humans, fellow seekers and learners who will support you every step of the way on this journey into the breath - and beyond.
So what are you breathing for?
Sounds Amazing! Tell Me More
This BreathingCold Essential Experience is for you if: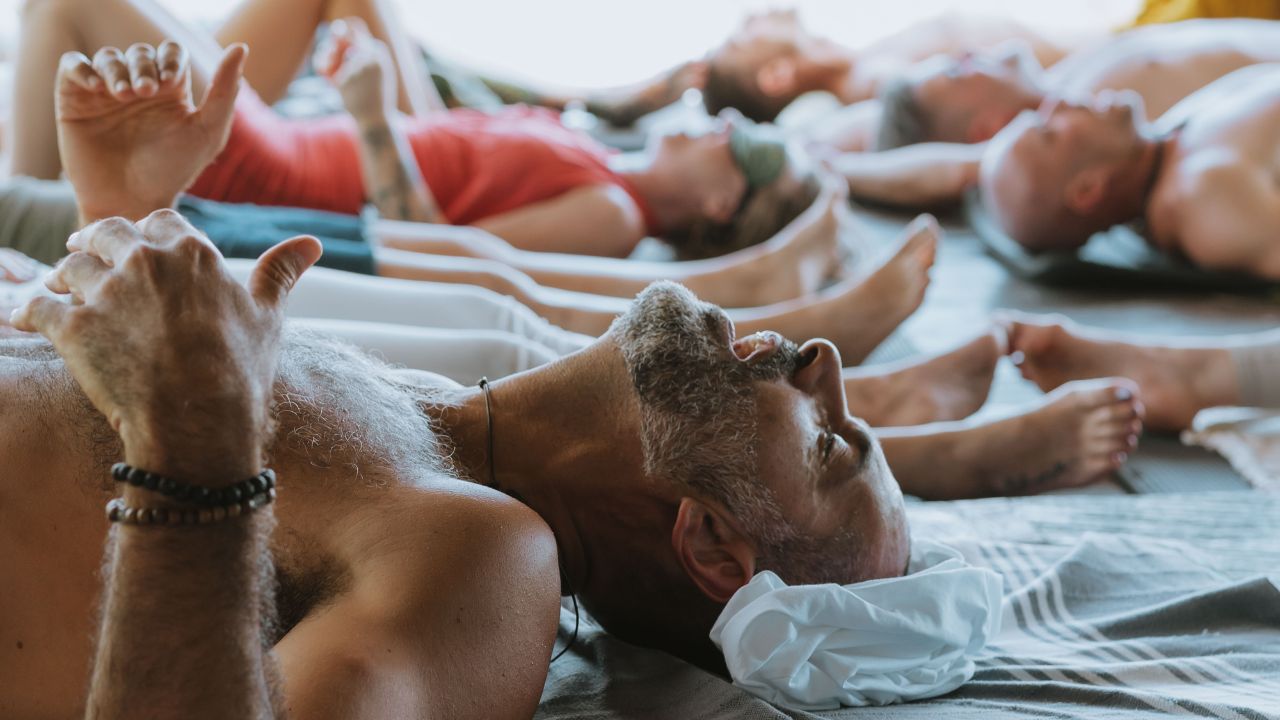 You deal with a lot of stress in your life
You struggle to focus and tend to procrastinate
You can't make clear decisions
You tend to self-doubt yourself and feel depressed at time
You have low energy that impacts your capability to remain motivated
You have trouble sleeping
You have often negative thoughts about yourself
You are looking for a lot more in your life or a change perhaps to your lifestyle, attitude or relationships?
or you are just curious to explore the magic of what the breath, authentic relating and ice bath have to offer.
You can do more than you think you can...
THE BREATH
We explore many breathing techniques with their benefits. You will experience the BreathingCold breathing technique, which is a blend of conscious connected breath with therapeutic touch, breath retentions, coherent breathing and visualisation. A powerful healing moment.
You will also be exposed to other breathing modalities to help you find your breath! You will leave with a better understanding of why The Breath is so powerful. We cover the science of the breath, the physical, physiological and emotional aspects.
THE ICE
Ice bathing is an ancient practice that has incredible physical and emotional benefits.Professional athletes are now commonly practicing it and it is having huge impact on anyone dealing with chronic stress and inflammation. The Ice will become your best friend or your mentor.
Truly transformational.
AUTHENTIC RELATING
How to connect with others at a deeper level;an essential part of the experience. Once we are connected to ourselves, we can connect with others. You will experience the incredible
Art of Getting someone's world!
ESSENTIAL PRACTICES FOR EVERYDAY LIFE
How to reconnect with yourself, listen to your body.
I believe that if you fall in love with the breath, then you can be in love every moment of your life.
To fall in love with simply being alive – is an incredible gift that I wish to share with you.
CREATING HABITS
Strong habits are keys for long lasting lifestyle changes. Breathwork becomes a daily ritual to connect to self and operate from the body and not the mind. We will explore the science of creating healthy habits.
MINDSET SHIFT
From limited beliefs to growth mindset, seeing challenges as opportunities, focusing on progress instead of results, prioritising learning over seeking approval. You will learn how to guide people so they become the best version of themselves.
REPLACE FEAR WITH LOVE
In these states of consciousness, deep healing and transformation
can be realized within the body, mind and spirit.
Hi, I'm Alex Tsuk - your guide on this transformational journey.
Born in France, I now call Ubud, Bali, my home.
I'm a n(ice) guy and a friend-maker who loves making a difference in people's lives.
My goal is to empower participants in the BreathingCold Experience to heal themselves with simple, safe, and free tools and techniques. After using these same tools and techniques to help myself deal with depression, I discovered my personal mission: to positively impact the lives of others by enabling them to live their life to its fullest potential.
When we change our relation to our breath, we change our relation with ourselves. I believe that if we change our relation to ourselves, it allows us to step up in the world, have better relations with others, and with Mother Earth.
As part of this commitment to helping people and the world around us, I founded BGreener, a community of 200+ business change-makers in Indonesia and RefillMyBottle, an app listing where people can refill their water bottle (sparing the earth of plastic waste).
I look forward to guiding you in powerful heartfulness practices like breath work, ice baths, and meditation as you reconnect with yourself, find your truth, your voice, and your Breath!
STUNNING!
Compare to no other training. Very real and therefore very efficient. Alex has a gift to bring a group to its optimum and to transmit to the participant how to do it. I heard once that you should always spot the smartest person in a group and this is easy as it is always the group. This training illustrates that very well. In this training not only do you learn a lot about Breath / Cold / Mental Gymnastic, but you also enter deep in the realm of how to get somebody else's world which makes a huge difference if your goal is to share and transmit, interact. Last but bot least, you do not only sign here for a training but also for the support of a whole group/network during and after the training. ~Guy
THANK YOU ALEX FOR SHOWING ME THE WAY!
Your guidance has showed me a new way to live through the breath. Doors have opened that I did not even know were there thanks to you. I am truly grateful today! ~Gianni N.
THIS COURSE CHANGED MY LIFE!
I am so grateful to you Alex to find my inner power, my inner essence, my beauty, strength and self love! You are the first coach I had who was vulnerable, 100 percent human, unique with a huge heart. This course will not only help you to become a coach, but find the way back to yourself. Forever grateful! x ~Katarina
THE HEALING EXPERIENCE
It was a very healing experience for me. I was witnessing the breakthrough in others and It was beautiful to witness and be around it. I've been witnessing and attending Alex's workshops and trainings for some time now and I want to say that he is a great example of evolution and constant growth. Even in this teacher training I witnessed how he learned. And for me it's the best lesson. For me, Alex is a great teacher because of his personal qualities. ~Paulina
CLARITY & SUCCESS
"This is not a retreat, it's a proceed. Alex facilitates the transformational process of finding the very best of yourself, stepping into the uncomfortable and thriving. I arrived on the first day feeling unsure about life and my path. At the end, I truly felt a deep shift in myself, one of clarity and success." ~Nathen
THE BEST TRAINING!
This was by far the best training I have ever taken. I learned so much from different breathing techniques, science behind the breath, how to hold space, authentic relating and so much more. Alex was so good at having all the information ready for us at our fingertips I can go back anytime and rewatch or reread the material covered. Its really amazing how intune Alex is with all his students and is able to provide for us exactly what we need. I loved the connection and community that he has created and continues to build. I feel so honored to have been taught by Alex and have this life changing experience. If you are wanting to facilitate or learn more about the breath wait no longer. I highly recommend this experience, you won't be disappointed. Just do it! ~Valery
LOVED, LOVED, LOVED THE COURSE!
Can't remember a time where I had so much fun, learned so much & had so much deep authentic bonding all at once. Great speakers, great experiences & what a beautiful tribe. Alex you out did yourself. I commend your dedication & hard work & the loyalty & purpose you continue to bring to all of us! ~Blu
BEYOND WORDS
I am a week back from the 3 day workshop. OMG! It was easy, kind, loving, and a challenge. Its effects ,love and support is still with me. I am on fire and in love with my life again. Not words ....I am in my life now and living it and I am excited about my life so its easy to invest in myself now. So if you find yourself thinking about doing this go have your own experience see what happens. push yourself do it. ~Claire
A DIFFERENT LEVEL OF UNDERSTANDING
I discovered Alex via a video that he posted where he was guiding breathwork by his pool. I always struggled with meditation and I loved Alex straight forward approach. I followed the guidance and immediately felt the effect in my body. After one week, I was really amazed, I had incredible sensations instantly. I managed to calm my mind and managed to calm down the buzzing in my head! I have now more confidence to teach breathwork and create my own style. It's a different level of understanding. It helped me a lot once I understood all the science behind the method. For anyone considering joining, be open minded and confident. Alex teaching is serious but don't take it too seriously. It's straight-forward. His approach is very down-to-earth.
~Stefan
HIGHLY RECOMMENDED!
"Become friend with the cold and reconnect with your breath. If you wanna take your wellness to the next level and change your mental, physical, emotional and energetical conditions, that's the place to go. Highly recommended!" ~Flo
AMAZING!
Alex's program works. I did the 3 day retreat and then the 1 day workshop a week later. The program compels you to look deep inside yourself and confront whatever fears, challenges, self-limiters you subconsciously have in place. The realisation of just how powerful the mind is is amazing. I'm a much better person for having participated in it.. ~Ben
INCREDIBLY POWERFUL EXPERIENCE
I attended this three day retreat in January of 2020 and was blow away by how much I got out of it. Not only did I learn powerful breathing exercises and ice bath techniques but I met some awesome people and was able to open up to myself. Over a month has passed sense the retreat and I have been doing the breathing and Ice/cold shower every day, best I've felt in a long time! Plus Alex is an amazing human, would recommend to anyone!!! ~Ben
WHERE TO BEGIN!
I tried to limit my expectations going into this training with Alex. But, of course my mind was still wondering what the opportunity would bring. Alex is the most open man I have ever met. For me, coming from a quiet masculine background, I had always found it difficult to express myself. The space that was created for me to begin to step into my power and speak my truth was incredible. For the first time in my whole life, I was encouraged to speak about how I was feeling, with no advice being given back and nobody trying to 'fix' me. I realized how much time I had been spending in my head, running old programs and stories of my past conditioning. I also began to feel how much my body was blocked on an energetic level. The knowledge I was provided on the breath, the ice, the mind, body and soul was very eye opening. I feel like the combination of the science, as well as the techniques I learnt, and the space Alex held, was just what I needed to continue accepting and loving myself.
Much of my teenage years and early 20's was spent living unconsciously and in separation. The last 3 – 4 years of my life has been transformative, and I can comfortably share that Alex has had the biggest impact on my life to date. Alex keeps on giving. And now that the course is finished, Alex is still showing up for himself and for me and our entire group every day. Some days I am in disbelief of this man. But, I remember what Alex has also taught me. That he shows up and does this work because he needs it the most. And for myself and other people to benefit from that, is a beautiful thing. Thank you Brother. Much love. ~Tommy
NOW I KNOW HOW TO CONTROL MY TRAUMA!
My intention was to control my emotions and start to live my life truly and achieve my goals. Through breathwork and ice baths I could access child traumas. So many things happened in these three weeks. So many changes in my life – positive and negative. I cried a lot because all the emotions were coming out and I could not control it. But now I start to understand how to control it and work with my traumas. Alex gives so many life hacks. Stay positive: today is the best day of your life! If you want to change your behaviours, habits, and mindset, you will really enjoy working with Alex. The process can be painful but the result is there! ~Anna
HELP TO FIND YOUR OWN VOICE!
My intention was to grow a deeper connection with my own breath, learn how to become a better facilitator and space holder. I take away many tools that I can use in my daily life, I feel more confident in myself and have a deeper connection with my own breath – I understand how breath can release traumas and how we can become a better version of ourselves. If you are thinking about joining, go for it because Alex is amazing. He has a pure heart and intention. He really helps you reach your highest potential. He lives everything he teaches. The environment feels safe to allow yourself to expand. Helping you find your own voice. ~Kim
GO OUT OF MY COMFORT ZONE
I chose to do this workshop because I hate being cold... What I got out of it were some pretty life changing minds shifts on how to deal with not being OK. The power of the mind is remarkable when given the right tools and guidance. Alex is an incredible facilitator and space holder, creating a beautiful internal journey from perceived discomfort, to a state of peace within. This 3 day workshop is highly recommended for anyone who wants to feel more connected to their body, mind, spirit and the ripple effect it has on everything around them. If you have the opportunity to be part of the next workshop, jump at it, you won't be sorry! ~Laurie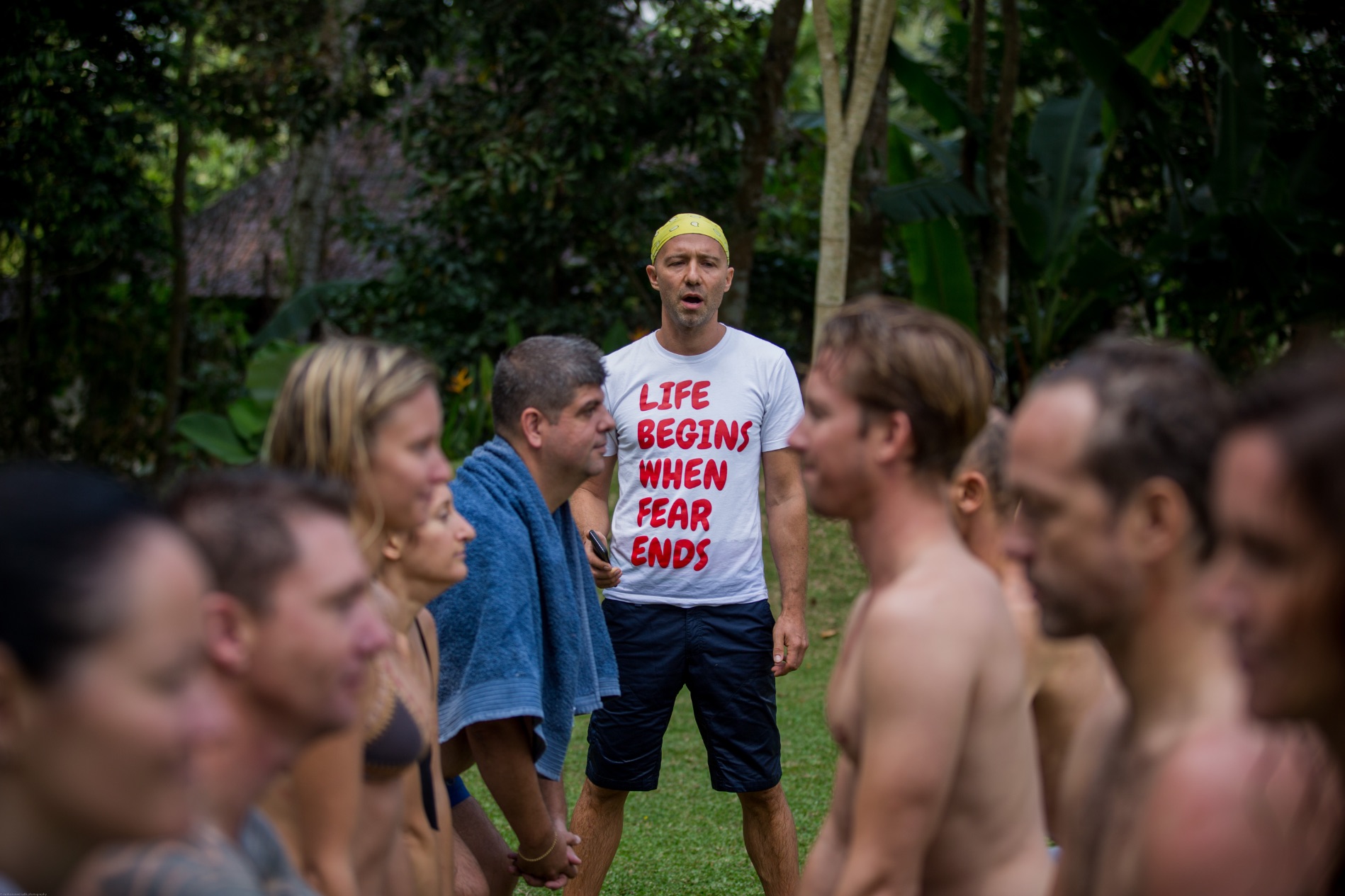 Daily lecture to make the brain happy
Daily breathwork, exploring different breathing modalities
Daily ice training at home or in person
Daily circle and authentic relating games to connect deeper
The retreat is a co-creation, we always flow following what is alive in the group.
Includes delicious vegan lunches and snacks
"There is no more profitable investment than investing in yourself...It is the true way to improve yourself to be the best version of you and lets you be able to best serve those around you."
― Roy T. Bennett, The Light in the Heart
Complete Program, One-time Payment = IDR 3,900,000
100% non-refundable deposit required to confirm attendance.
Why this Experience, Right Now?
It almost goes without saying that the last 3 years have been years like no other in our lifetimes. So many people sick, so much loss, so many who have lost direction.
The time for healing from this trauma is now. The time to reclaim our lives, be empowered with our health, and make a tangible positive impact is now.
Now more than ever, the world needs us at our best.
Now more than ever, our community needs our help.
Now more than ever, we need to Breathe.
Are you ready to undertake powerful healing experiences, self-transformation, and personal clarity on a unique experience that will change your life in a profound way?
Join us offline in Bali or online from wherever you are for the Breathing Cold Essential Experience and become the embodiment of your limitless potential.
The world is waiting for you. Will you answer the call?
ABOUT BREATHINGCOLD
We can do more than we think we can and with a little practice we can change the story, live the life we want to live and become LIMITLESS. You should try !